Turf in Surrey from Turf Lawns
Surrey turf deliveries are available from Turf Lawns on a daily basis, all year round. Turf Lawns supply and deliver high quality seeded lawn turf in all areas of Surrey. If you order your turf before 12.00 we can supply and deliver the next day at no extra cost.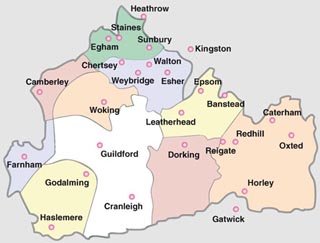 At Turf Lawns, growing turf is our passion. We take great pride in producing some of the finest turf, supplied in Surrey.
All of our turf is fully treated for weeds, pests and unwanted diseases. Our team at Turf Lawns work hard to maintain our turf fields all year round. We use the latest machinery to ensure the very best production of our turf.
Whether you are a private customer or a landscaper, our garden lawn turf is perfect for most domestic and utility areas as well as all general recreation and amenity use. Our purpose grown seeded lawn turf offers durability and a uniformed, fantastic finish.
We supply and deliver quality durable turf in all areas of Surrey:
| | | | | |
| --- | --- | --- | --- | --- |
| Addlestone Turf | Ashford Turf | Banstead Turf | Camberley Turf | Caterham Turf |
| Cherstey Turf | Cobham Turf | Dorking Turf | Earlswood Turf | Egham Turf |
| Egham Hythe Turf | Epsom Turf | Esher Turf | Ewell Turf | Farnham Turf |
| Godalming Turf | Guildford Turf | Haslemere Turf | Horley Turf | Leatherhead Turf |
| Oxted Turf | Redhill Turf | Shepperton Turf | Staines Turf | Sunbury-on-Thames |
| Walton-on-Thames | Weybridge Turf | Whyteleafe Turf | Woking Turf | Cranleigh Turf |
To get an instant quote for turf in Surrey, use our calculator at the top right of the page. Just enter the amount of turf that you require and your postcode. You will then be shown a total delivered price. There are no hidden costs.
If you would like to place a turf order for delivery in Surrey over the phone or you have any questions please do not hesitate to give us a call. Our phone lines are open 8am to 6pm. Our staff are always happy to help.